2020-12-10 Spotlight
EPIC Spotlight: LendConnect Updates and Latest Enhancements
As 2020 comes to a close, it's been an interesting year to look back on to say the least! The year ushered in one of the best economies in history, only to have it crippled in the second quarter by the COVID-19 Pandemic. And now it looks like the year will end amidst what will likely be the most historic elections of our lifetimes. What a year!
From the final direction on the Payday Lending Rule being decided in July to the dozens of state regulations drafted, passed or pending; one thing that was consistent in 2020 was the constant change to our industry!
Another consistency in 2020 was EPIC's commitment to staying ahead of those changes, integrating them into our LMS to better support your business and being an industry leader.
In this issue, we'll highlight a few recent enhancements implemented since our last issue, update on the rescheduling of the LendConnect Conference to providing links to some valuable webinar resources.
Latest Enhancements to EPIC LMS
– Increased Decisioning Support – EPIC has expanded the Instant Financial Verification (IFV) and Instant Bank Verification (IBV) options for its clients with the enhanced integration of Lendmate.
– Enhanced Communications – New configuration settings – EPIC has enhanced the communication options for loans within the Collections and/or Bankruptcy queues.
– New Endpoints for Collections – EPIC expanded the ability to assign DEBIT ACH Endpoints for loans in Collections whether they are Returned Items or Charge offs.
– Two New Smart Tags for Debit card and Payment Schedule.
For a complete listing of recent enhancements and updates, EPIC customers can visit the knowledge base. We are constantly improving our systems so that you can stay one step ahead of the competition and meet your customers' needs.
LendConnect Conference ALERT!
– Save the Date – September 21-23, 2021 –
Like so many other large gatherings, the Coronavirus has disrupted the best laid plans in 2020. After much consideration and deliberation with our sponsors, registrants and the Margaritaville venue, we have made the decision to RESCHEDULE the LendConnect 2021 Conference which will begin on Tuesday September 21, 2021 through Thursday September 23, 2021.
LendConnect is a "Must Attend" event for anyone in anyway associated with the lending business. Content driven and a premier networking event, it is one of the key conferences that most of the industry mark their calendars for each year!
Mark your Calendars and Save the Date for LendConnect as we are looking forward to getting together face-to-face in 2021!
2021 LendConnect Webinar Series
While LendConnect may have been rescheduled, you can still keep up with the latest from EPIC by distance learning through our webinar series. EPIC Loan Systems will continue to expand its reach with periodic webinars to stay connected. For 2021, the webinar series intends to keep us all updated on topics and issues that affect our industry throughout the year.
We are planning to hold these webinars in January, April, and August featuring panelists from EPIC's trusted partners in the industry – be on the lookout for more details!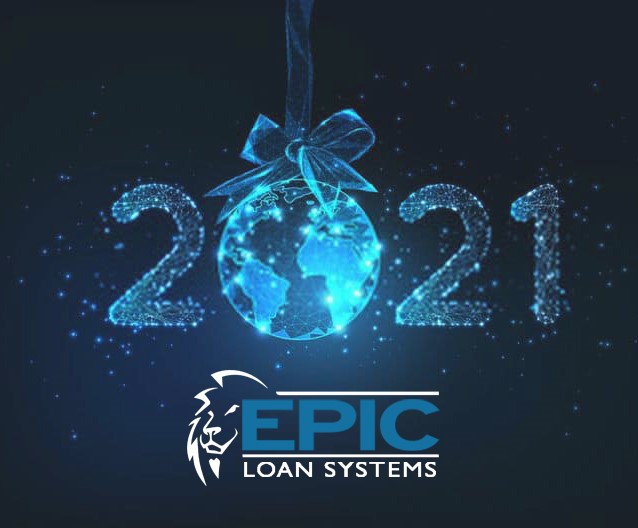 Happy New Year!
EPIC Loan Systems would like to take this opportunity to thank each and everyone of our customers for their continued trust and reliance on our products!
We recognize the responsibility that comes with the role we play as an integral part of your business. Our success is based entirely on your success and that will continue to be our driving motivation to bring you the best LMS in the industry!
We wish each of your and yours the happiest of holidays and best wishes for the new year!